I had introduced you to Design Hadithi in my first ever 4 things I'm loving weekly series and I am soooooo excited to finally share the first Design Hadithi merchandise. I had a pretty exciting week – last week I started curating thrifted rugs for Design Hadithi, and I was photographing them over the weekend! I have to say! I enjoyed myself immensely, It's always slightly nerve wracking sharing your baby (in my case – design hadithi) with the world not knowing how it'll be received but I am strapping my boots and bringing out this baby for a sip 'n see (that should be a thing in Kenya!) …. and buy rug!!! After all ⇓⇓ ⇓⇓
In the end we only regret the chances we didn't take, the relationships we were too afraid to have and the decisions we took too long to make.
Now I know she's ⇓⇓  ⇓⇓ neither pink nor Persian but the rug is! It actually has navy blue accents which photographed as black…and it is all kinds of gorgeous!
This  pink Persian rug measures 74′ × 51′
I would love to have it placed somewhere unexpected say in a kitchen like in the inspo picture below ⇓⇓ ⇓⇓
….or in a little reading nook ⇓⇓ ⇓⇓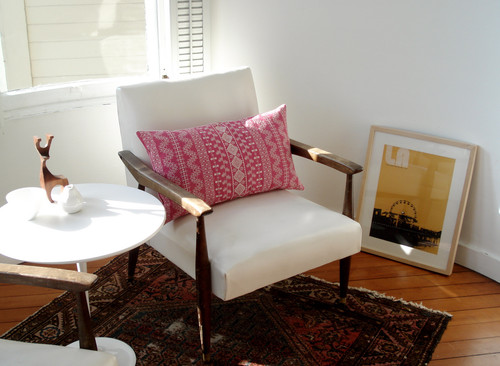 and tell me thats ⇓⇓ ⇓⇓ not the pink Persian (its light enough to!) draped over that couch!🙆🏾‍♀️🙆🏾‍♀️🙆🏾‍♀️… and those Suzan-esque print cushions are just making my toes curl backwards!!
You know what, I don't mind if you want your rug on the floor… you could layer the pink Persian onto of another rug ⇓⇓ ⇓⇓
This rug is sooo plush it feels like you are seating on a pillowy billowy cloud!! It's 100% wool and it measures 74'×51′.
This pale pink wool rug is so thick, you sit on it and you'll think theres a rug pad underneath!! I would definitely put it in a meditation room… you can sit on it for ever and not get numb bum (which is a condition by the way!!)
Side note: I love creating little vignettes all over my house… can you tell I'm into copper tone accent pieces???
This Hand woven tribal area rug is tussled on one end and I am all about it and the Swahili chic vibes it is serving!!!! Also if you rolled your eyes after reading 'tribal' just know I'm from Africa… the continent so I'm allowed to throw around term like tribal chic!! Whatever that means!!
It measures 63×37 and I can see this tribal rug in someones entry way, balcony, bathroom… the options are endless!
In my eyes this rug can do no wrong… seeing as it makes my toe-sies pop! Then again I did get these banging toes from my papa… except for the teeny weeny last one which in all fairness I should get a discounted rate when I get a pedicure…coz its microscopic…. you need to have very good imagination to find it !!
If I was a rug…. this room would be my idea for retirement heaven!!!! Forget convention… convention is akin to the missionary (which is fine if you are tired but you still want to fulfil conjugal obligations), so for now throw convention out of the window… imagine the tribal rug as a wall hanging…. as a throw on a bed in the guest room… if you are crafty and you have the patience for it (or a good tailor) you can turn it into cushions!! it can be a throw on your favourite reading chair!!! I could keep going!!! but I'd love to hear what other great ways you'd use it!
First came the pink Persian and now it's the olive tone Persian… I say the pink Persian should get some tanning tips from the olive toned Persian! The rugs measures 58'×38′.
I just love how whoever did this room, did so with reckless rug abandon!! I mean rug over the head board (which the pink Persian would be perfect for!) That trunk!!!!! Oh surely thats what bedside table dreams are made of!! It almost distracts from the perfection that is the bedside rug… Oh! Oh! and do you spy the the one in the back ground that surely is the Olive Toned Persians Distant Cousin… (by marriage perhaps!)… My heart is palpitating… I hadn't seen the lamp! …..If you need me I will be daintily laying on my fainting couch because this is too much excitement for me!!!
This pair of tartan rugs is making me long for bagpipes and kilt clad lads… I have no clue what I'm going on about…so let me just quit while I'm ahead!! The rugs measures 58'×38′.
I wonder if shag rugs are the reason carpet burn became a thing?!
Check out the shag (winky wink) profile ⇓⇓  ⇓⇓
This rugs measure 36'×20.5′ and come as a pair… would work well in an entryway.
These recycled cotton cloth rugs are giving me major flashbacks to my childhood…. not that there were any psychedelics involved!!! And that splash of colour #70's vibes!! 
If you like any of these rugs head on over to the Design Hadithi instagram page for price points, spoiler alert: (which by the way are very pocket friendly!!!!.)
I'd love to hear what you think of the first Design Hadithi rug curation!! Thanks for reading!!